Michelle Gielan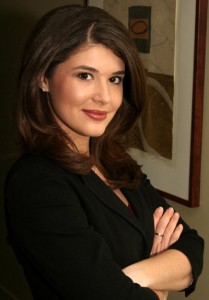 Michelle Gielan, CoFounder of the Institute for Applied Positive Research, is an expert on the science of positive communication and how to use it to fuel success.  She works with Fortune 500 companies and schools to raise employee engagement, productivity and happiness at work.  Michelle is a member of Zappos' Downtown Project Think Tank on Education.  She holds a Master of Applied Positive Psychology from the University of Pennsylvania.
Michelle is an Executive Producer of "The Happiness Advantage" Special on PBS.  She formerly served as the anchor of two national newscasts at CBS News, as well as a correspondent for "The Early Show."  In 2009, Michelle produced "Happy Week", a series focusing on fostering happiness in the midst of the recession.  In 2011, she appeared in her own weekly health and wellness segment, "Manic Monday" on FOX News Chicago.
Michelle graduated cum laude in Computer Engineering.  Her research and advice have received attention from Forbes, USA Today, CNN, FOX and NPR.
Michelle's Reel
In 2011, while living in Chicago, Michelle appeared in her own weekly health and wellness segment, "Manic Monday" on FOX News Chicago.  The following video is a montage of clips from those interviews.
---
The Happiness Advantage PBS Special
We couldn't be more thrilled to have teamed up with PBS to produce "The Happiness Advantage with Shawn Achor"!  In this 60 minute program, Shawn Achor explains how to get the Happiness Advantage for better health, relationships and success at work.  It was a pleasure working with TPT, Tremendous! Entertainment, and PBS to create this exciting special on the science of happiness.
The program premieres August 13.  We hope you'll check your local listings and catch "The Happiness Advantage with Shawn Achor on PBS!"
- Michelle Gielan
Co-Executive Producer

About The Program: Most people believe that success creates happiness, but positive psychology expert Shawn Achor says we've got it backwards. Based on recent discoveries in the fields of positive psychology and neuroscience, he demonstrates how happiness actually fuels success. By becoming more positive, our brain becomes more engaged, creative, energetic, resilient and productive. The result is an advantage over our entire lifetime — improving success at work, creating better health, better relationships with our loved ones, and creating a happier home.
For more information and clips of the show: Please visit TPT's website.
For media and development inquiries, please contact us below.